Peak season is coming! Get ready to get busy.
For most businesses, September through December is harvest time. Back to school, back to business. Make sure you're ready.
We all need to be where our customers are. That's online and offline. It's at exhibitions and events. It's selling via ecommerce and persuading, face-to-face.
The best businesses use a combination of print, display and digital marketing to touch customers in different ways. Now's the time to get ready and grab your share. Stack the odds in your favour. Get busy.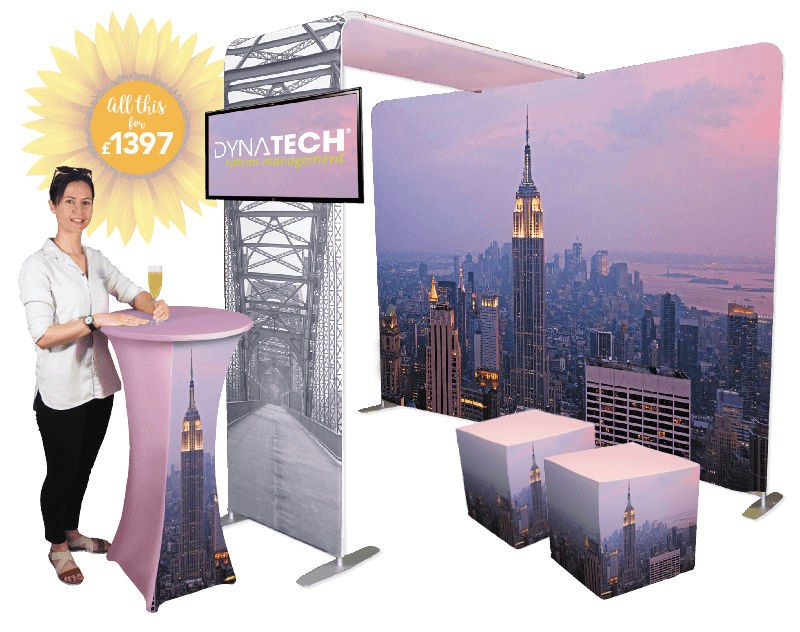 STAGE 30 + RIALTO BRIDGE + BELLINI COCKTAIL TABLE + KOLA MAX CUBES (x2)
attach a TV to the bridge (bracket included, TV not included) – fits in a 3x2m space
All the above for £1397 £1681
CURVE 24 + KANGAROO LITERATURE HOLDER + BOOTH KIOSK
Compact curved backdrop, freestanding brochure holder and pop-up counter, shown with optional header
All the above for £949 £1177
EMBRACE U + MOJITO TABLE + PADIUM TABLET HOLDER
These high back booths have a 3x2m footprint and amazing double-sided wrap around graphics to create a snug and high-impact display. Add an interactive element with a tablet podium (tablet not included)
All the above for £1343 £1723
VICEROY GAZEBO + ARTHUR JUNIOR TABLE CLOTH + TEARDROP FLAGS (x2)
Our new 3x3m gazebo range is really flexible and low cost (table not included)
All the above for £897 £917
Like what you see? Want to view a sample?
Talk to our team about your upcoming event, or arrange to view a sample of our fabric display range in our studio based in Livingston (view map >>).
Call 01506 209946 or email us on studio@kumo.ink
You have to see them believe them.